Propagation method of Tinospora Cordifolia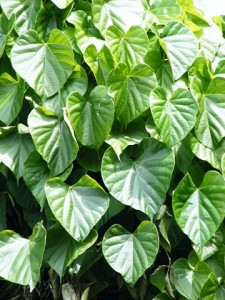 Tinospora Cordifolia is a plant found mainly in Malaysia, India and Srilanka. The main parts uses of this plant are stem and root. It is a large highly spreading, woody climber with fat are water-retaining plants adapted to arid climate or soil conditions.
Uses of Tinospora Cordifolia

Tinospora Cordifolia can be used for scorpion sting treatment. An infusion prepared from the stem and root is a valuable toxic in debilitating diseases. Its is used to cure skin problems, fever weakness, jaundice and diabetes. It is used for piles. The extract of Tinospora Cordifolia is very effective against the insect Aphis Craccivora Koch (aphid). This can be used as a natural way of killing insects in garden.
Cultivation of Tinospora Cordifolia
Medium black soil or red soil is the best for the cultivation of Tinospora Cordifolia. A well drained, rich in organic matter soil is very good for the growth of this plant. The plant is very hardy and it can be grown in almost all climates but prefers warm climate.
Tinospora can be propagated by seeds and also vegetative cuttings. The best way is vegetative way. The cuttings of the small finger thickness with 6 to 8 inch length long stem having two nodes are used. The cuttings are dipped by quick dip method in 2500 ppm of IBA and get greater success of rooting. This may be planted in poly bags of 4 inch ×6 inch size. The poly bags filled with mud, sand and dry cow dung in the ratio 1:1:1. The rooting of the cuttings takes almost 4 to 5 weeks. The cuttings of Tinospora Cordifolia will be ready for planting into the main field by this time.
Tinospora is a climber and hence needs some source of support to get higher yields. Proper training structures like the wires are required. The first harvest can be made by plucking the leaves without damaging the vines. These leaves are then spread on clean dry floor for drying.
Irrigation: Tinospora Cordifolia should be watered everyday in the early stages and later at weekly intervals depending upon soil and climate conditions.