Cure for Baldness and Good Growth of Hair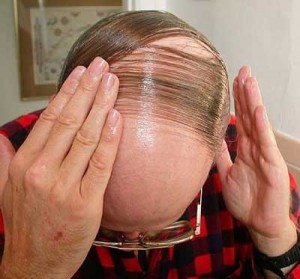 Method 1
Lawsonia Alba(henna) leafs are grinded without water. Then take 5 times of coconut oil and boil the mixture for 5 minutes. When its cooled, strain the same and store in a bottle Then it can be used regularly.
Method 2
Take Sida Retusa (a whole plant) and smash into pulp. Do not add water in the pulp. Apply the pulp on the head.
Method 3
Take 10 grams of Caraway (black Jeera) and boil with pure coconut oil and rub it into the hair.This is a good remedy for baldness.
Method 4
Terminalia Bellerica seeds 10 numbers are grounded and boiled with pure coconut oil of about 250ml and the same can be used on the head.
Method 5
Trigonella Foenum Graecum (Fenugreek) should be grinded and the same can be rubbed on the head and after 10 minutes this can be washed away.
Method 6
Take Carawy (black Jeera) 10 grams and powder it and then boil it with 250 ml of gingelly oil. When it is cooled, it can be rubbed into the scalp of the hair and massaged well.
Method 7
Lawsonia Alba(henna) root 10 grams should be boiled in coconut oil of about 250 ml. When cooled rub on the hair and scalp.
Method 8
Take Murraya Koenigii (curry leaf)  10 grams (leaves) and should be grinded well. Take coconut milk 200ml, coconut oil 250 ml and should be mixed and heated for 10 minutes. When this mixture cools it can be used on hair.
Method 9
Eclipta Alba should be smashed and equal parts of coconut oil is boiled together. When cooled, it is rubbed on the head.
Method 10
Take one part Hibiscus Rosa, one part Eclipta Alba, four part of coconut oil. The three should be boiled together and can be rubbed regularly on the head.
Method 11
Datura Metel leaves 100gm are smashed nicely with 1kg of pure coconut.  Both are boiled and strained. This can be used regularly for good growth of hair and works as a cure for the baldness of hair.
One Response to Cure for Baldness and Good Growth of Hair