Crataeva Religiosa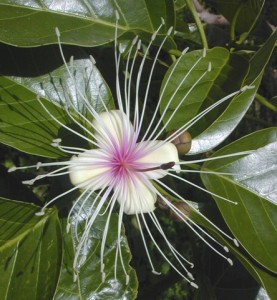 Crataeva Religiosa is usually cultivated in Central India, Bengal and Assam found near streams in Malabar in Kerala. It is also common in Myanmar and Sri Lanka.
Description of Tree
Small medium sized, much branched deciduous trees with crooked branched leaves and compound flowers which are white pale and yellowish. It is suitable for ornamental planting in Public Park and open space in towns. It can stand severe drought and is suitable for dry area.
Parts Used
Bark leaves and root bark.
Uses in Ayurveda
Bark is especially useful for urinary complaints such as kidney, bladder stone, fever and to relieve from vomiting. For bruise fresh leaves of Crataeva Religiosa grinded well with a little vinegar or lime water or hot water and applied to the skin as paste, it takes 10 to 20 minutes to obtain rubefacient effect. A part of the leaves applied to soles of feet to relive swelling and burning sensation.
Propagation method of Crataeva Religiosa
The plants are raised from seed in monsoons and also propagated from root suckers. It takes about a year to geminate. The growth of the tree is very slow.